Liebert EEU (Energy Export Unit)
Features :

Micro processor / DSP based MPPT Design


High efficiency & Reliability


20 years design life. Tropicalised design


Inbuilt LCD display


Sophisticated local & remote monitoring system (Optional)


Built in output isolation transformer


Compliance to International test standards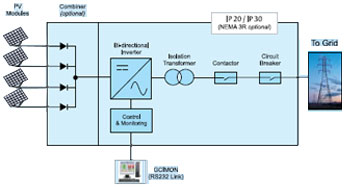 Liebert EEU is single / three phase output inverter, with Grid interactive feature. Solar Photovoltaic panels converts solar energy into electrical energy as DC power. This DC power becomes input for the EEU inverter. The inverter converts it into conventional AC power, and with its state of the art Grid synchronization design, this AC power is fed to the supply grid.